Preventionists supporting your project
The outsourcing and / or reinforcement solution to the Prevention of Occupational Risks in your project through our professional preventionists who are also experts in the use of our platform.
Who are the preventionists?
Nalanda professionals to whom you can subcontract, and in whom you can trust the work of Prevention, Safety and Occupational Health of any of your projects.
Our preventionist will support your work in the Nalanda Document Management platform, freeing you from paperwork so that you can dedicate yourself to the most important thing: your peace of mind.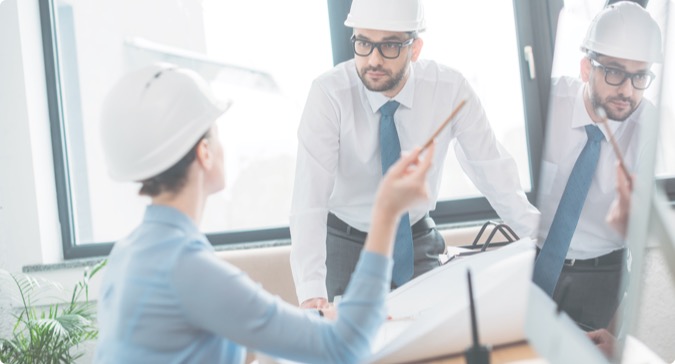 Either because the policy of your company or project is to outsource Prevention or as a need for specific projects, our preventionists will commit to the work of promoting, evaluating, improving, controlling, coordinating, training and planning all the work you need regarding Health and Safety of your projects.
We will also be by the side of your preventionists in case you need ours as reinforcement.

We promote the prevention of occupational hazards.
Our preventionists promote prevention at all hierarchical levels of your company and that everyone incorporates this concept into their work.
We propose improvements.
Our preventionists will propose measures to control and reduce risks or request the intervention of higher-level technicians if necessary.
We ensure compliance with the occupational risk reduction and control program.
We defend the planning of the preventive activity defined by your company (with or without our help) and we ensure its maximum degree of compliance.
We participate in the planning of preventive activity.
The experience of our preventionists in other companies may help you to complete your preventive planning.
We evaluate the risks of your project.
Both the evaluation of occupational risks and the consequences they may have, is a basic task from which our preventionists release you.
We carry out control actions.
We periodically monitor the working conditions and the organization to identify changes that may pose a risk to the health of workers.
We inform and train in occupational risk prevention
We discharge you from complying with your company's obligation to train and inform workers of the risks of each job.
We participate in emergency plans and first aid actions with you.
We help to follow your company's self-protection plan and to minimize the consequences of any accident.